In response to the current trend in cryptocurrencies, Admiral Markets has added them to its product portfolio to offer traders.
All Admiral Markets clients on Trade.MT4 and Trade.MT5 accounts can now tap into investment opportunities posed by the decentralized economy with our range of Cryptocurrency CFDs.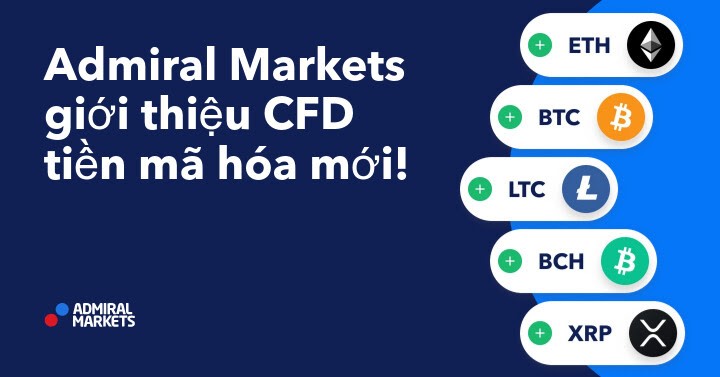 Here is what you can trade:
Bitcoin vs U.S. Dollar (platform symbol: BTCUSD-T)
Ether vs U.S. Dollar (ETHUSD-T)
XRP (1,000 units in 1 lot) vs U.S. Dollar (XRPUSD-T)
Litecoin vs U.S. Dollar (LTCUSD-T)
Bitcoin Cash vs U.S. Dollar (BCHUSD-T)
Key product highlights
Leverage 1:10 on BTC, ETH, LTC and BCH, 1:2 on XRP. Allocate only 1/10th of bitcoin price as margin to get investment results as if you were holding 1 full Bitcoin
Fractional lots supported. Transact in as small lots as 0.01 of BTC, ETH and BCH (0.1 for LTC and XRP)
No commissions
Extreme volatility and 24/7 trading hours
Exposure limit of 150,000 USD per each separate trading account for the entire crypto CFD portfolio. 25,000 USD exposure limit on XRP. 
Why trade Cryptocurrency CFDs?
CFDs are regulated leveraged products that are designed to mirror all fluctuations of underlying markets. Regulated products can be offered only by authorized brokers such as Admiral Markets. License number SD073 issued by the Financial Services Authority of Seychelles. 
Through CFDs, you can now take exposure to the most established Cryptocurrencies without having the burden of owning, storing or moving them around non-regulated wallet services with high transaction costs and network delays. 
That's not all!  
CFDs allow you to open both Long and Short positions. We are pleased to provide you with instruments that may allow you to profit not only when cryptocurrency markets are rising but also when they sell-off and crash. There are no short position surcharges or additional borrow fees, just regular spread and position overnight holding costs if you leave it open for a longer time  
Go directly to the website: https://admiralmarkets.com.au/