AxiTrader is a finance company of the AxiCorp group, established in 2007 and headquartered in Australia. Axi has just been spun off from AxiTrader at the end of 2020. Due to its growing strength it has become one of the leading online brokers globally. Currently offering financial services to retail traders in over 120 countries.
The execution speed of Axi transactions will be faster thanks to the server located in New York, the "Foreign Financial Center" area.
AxiTrader is also authorized and regulated by a financial regulator. Client funds are kept separate on separate trust accounts at major banks NAB and Lloyds. Thus, that means that Axi customer's money cannot be used for any other purpose.
Axitrader is licensed by financial regulators such as FCA UK (FRN: 509746) and ASIC (AFSL 318232) and the Dubai Financial Services Authority (DFSA).
Broker awards Axitrader awarded in the year 2019-2020.
Advantages
With verification from the Australian Securities and Investments Commission (ASIC).
Minimum deposit from just $ 1.
Low spreads, consistent Scalping Trader.
Low transaction fees.
There are no deposit and withdrawal fees.
Free online education, seminars and tutorials.
24-hour customer support from Monday to Friday.
Email Support, Online Support and Callback.
Defect
Not many Research Tools available.
No stock transactions.
AxiTrader Demo Free
Allowing testing trading on a free demo account is important for every level of investor. It is a practice exercise, can help you acquire some skills, test the strategy without losing a penny.
Axi Trader offers virtual currency up to 50,000 GBP on demo accounts. We also strongly advise new traders to experiment with a demo account before trading risky real estate. Because, this will help you acquire some of the basic skills without taking any unexpected risks.
Trading Instruments at Axi Trader
AxiTrader offers various trading instruments such as Forex, precious metals, commodities, cryptocurrencies and indices.
Forex: more than 70 currency pairs, including major pairs, cross pairs and exotic pairs.
Metals: These include gold, silver, platinum and palladium, quoted in USD and many other currencies.
Commodities: agricultural products, WTI oil and Brent oil, natural gas.
Cryptocurrencies: These electronic codes have a corresponding exchange rate to USD including Bitcoin and Bitcoin Cash, Ethereum, Dash, Litecoin, Ripple, …
Indices: over 20 stock indices come from strong countries such as UK100, US30, USTECH, JPN225, and HK50.
Types of accounts
Axitrader offers 2 types of Standard and Pro accounts. In particular, Standard account will not charge commission but spread is high, Pro account has commission fee but spread will be low.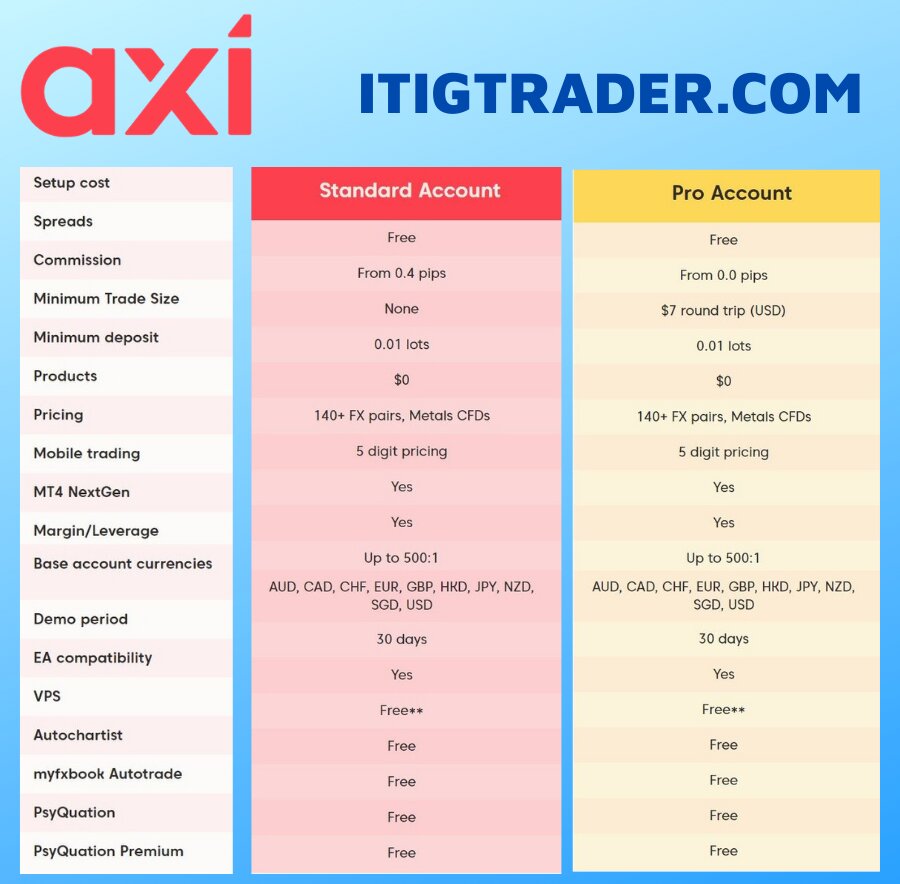 Standard Account
Spreads from 0.4 pips.
No commission fees
Deposit capital from 1 USD.
Leverage trades up to 1: 500.
Allows use of automated trading robots.
Free VPS on condition.
Autochartist is free to use
Pro account
Spreads from 0 pips.
3.5 USD commission per transaction way.
Deposit 1 USD.
Leverage trades up to 1: 500.
Allows use of automated trading robots.
Free VPS on condition.
Autochartist is free to use.
There is not much difference between the two types of accounts above at Axitrader, only difference in commission and spread. As is recommended, a Scalping trader should choose a Professional account, while other trading methods you can choose accordingly.
Manage Multiple Accounts – MAM
MAM Manager is a trading tool that allows traders to conveniently control multiple accounts from one trading terminal.
MAM only available to professional traders have moderated, thereby allowing the management of the account or investment programs managed organization.
Some other forex brokers also support PAMM / MAM account service that you can refer to via ICMarkets, HotForex and Darwinex.
AXI's API Technology
For highly specialized traders who need deep liquidity and technological advantages to keep their capital safe. Axi trader will provide you with this solution.
Best Price Market: an advantage for investors to trade with algorithms and transparent spreads.
Better Execution Quality: Low spreads and latency are useless without a reliable execution engine.
Advanced Technology: infrastructure investment with high specifications to be able to handle customer needs and ensure that the system is not working excessively. To ensure the uptime of the server and the environment are always stable.
Trading Platform
Currently, Axittrader offers investors only one MT4 trading platform. With other tools supporting market analysis MT4 Nexgen, Axione, PsyQuation, Autochartis and Signal Channels.
Axitrader MT4: supported by developer Metaquotes on desktop (Windows / Mac), Web and handheld devices (iPhone / iPad / Android / Tablet).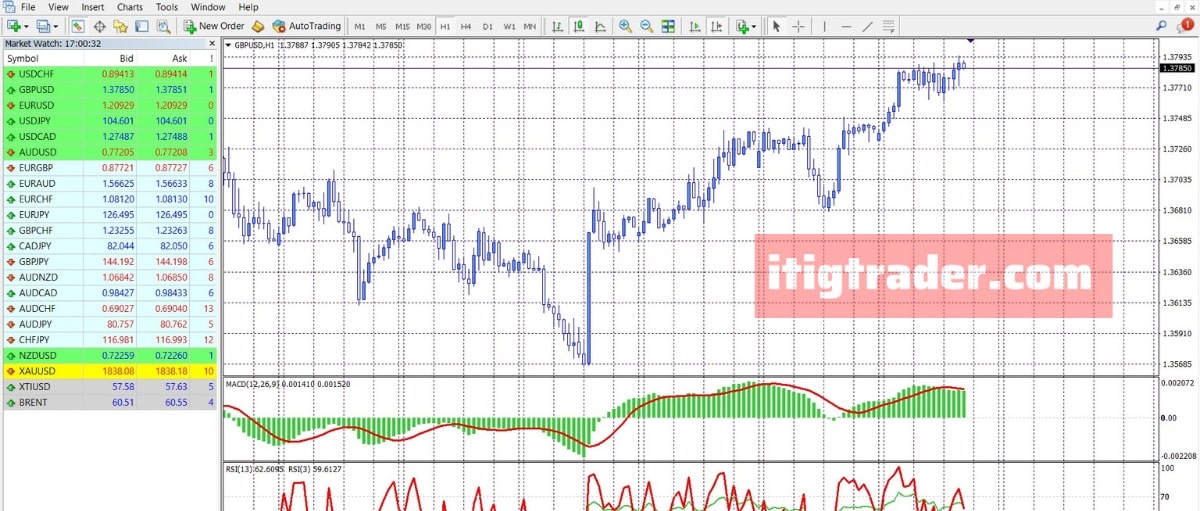 Nexgen Axitrader MT4: upgrade from MT4 and adds a number of features including advanced management tools, advanced editing and transaction statement on emotions. Axitrader only provides customers with minimum deposit of at least 1000 USD.
Axione Platform: only for professional trading funds or traders.
PsyQuation Platform: is the AI tool developed by Axitrader from the IT team. It analyzes your trading history and unique trading style, improves your trading profits by notifying you of potential errors, based on trading behavior.
Deposit and withdrawal at Axitrader
Axitrader does not charge fees on all deposits and withdrawals. Recently, the support for additional payment channels via Internet Banking is good news for many investors who want to open an Axitrader account.
Here are the other payment channels that Axitrader currently has:
Master Card / Debit Card
Skirll
Neteller
Wire Transfer
BPAY
Fasapay
Union Pay
Support Services
Like many other brokers AxiTrader supports many languages. Therefore, if you have any questions about this forex broker translation product, you can contact them online chat right on the homepage.
Is AxiTrader reputable?
A Forex Exchange like AxiTrader has been around for more than 12 years, with a long history of running with clear and transparent licenses. Prove, Axi Trader is safe. This is one of the top criteria of traders when choosing a broker to invest financially.
What is the AxiTrader minimum deposit?
There is no minimum capital requirement on all existing trading accounts on AXI.
How much is the largest AxiTrader leverage?
If the client is registered under the brand "AxiTrader Limited" under the management of the Financial Services Authority, the maximum leverage is up to 1: 500.
If the client is registered under the brand "AxiCorp Financial Services Pty Ltd" under the ASIC management of Australia. According to ASIC rules, in March 2021 leverage will be only 1:30.
How much is Axitrader withdrawal fee?
There are no withdrawal fees on the withdrawal methods currently offered.