What is OctaFX Copy Trade?
This name at OctaFX can also be seen as Copy trade or Social Trading. To use this service investors need to have an OctaFX account in advance.
Once you have an OctaFX account and password, you must use them to login OctaFX to access the personal information area. At this time, the screen will look like this.

Go to "Copytrading", located at the bottom right hand side of the screen. If you don't, scroll down to see this item.
Check out "Master Rating" rankings on OctaFX
Here, each trader providing a strategy will see the following basic information:
Profit of Provider Signal (Master) strategy and uptime.
Follower has copied the signal according to that Master.
Commissions in progress: it is the execution fee, which you will pay the trader if they make a profit. (same as compensation).
Besides, you can still go to "Filter" to choose according to your criteria such as:
Minimum Investment Capital: Each Provider Signal, they will usually require the minimum capital of the investor to copy their trade.
Revenue Sharing or Fixed Lot Fee: that is, how much profit you will pay the transaction fee in% in the form of Master. Or, you can pay the transaction fee per lot that the investor copied the trade every time Provider Signal placed an order.
Expert Level: There are 6 levels for you to choose from high to low: Legend, Expert, High Achiever, Talented Development and New Entrant.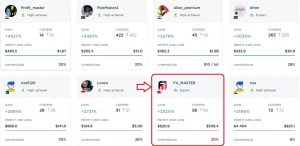 The interface of "Master Rating" rankings on OctaFX is the same as above.
Take the example of a Provider Signal
As here, I will take for example the nickname called "FX_MASTER" that is in the top of the current rankings. With the following information about this person as follows:
Trophies: Expert.
Number of copies (Follower): according to 58 people.
Transaction Fee (Commission): is 30%.
Use 1: 500 trading leverage.
Here, I observe more in-depth information about FX_MASTER:
Minimum Capital Investment is allowed: from 25 USD up.
Trader Capital: 123 $ .
Description of their strategy: For example, you can contact them via Telegram, Zalo, Skype, or any contact information they have left.
Transaction History: only about 2 month, as in the image below you can see the chart of account growth history.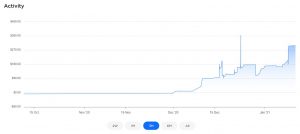 If you see that this person matches your criteria, then click the button "START COPY".
Final Confirmation before deciding to Copy trade:
You will be asked to customize how capital is allocated to the person you want to copy:
Copy Trade form: Copy in 1: 1 ratio or proportional ratio
Investment amount: ie you will accept the allocation of your money to copy investment from this person.
Allow protection "Investment amount" in %: default is 0%, if the risk occurs, the loss of all capital was taken.
Finally if you see that it is OK about this Provider Signal then press the button "CONFIRM".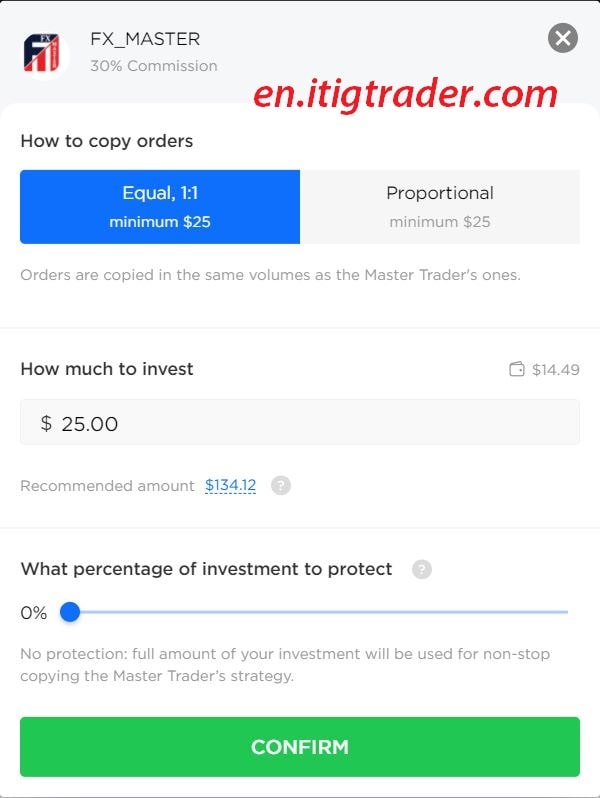 The above is just an example for Provider Signal named "FX_MASTER". This is not a recommendation for investors to invest capital to copy trading from this person.
Some general tips on OctaFX Copy Trading
Certainly in my eyes the Provider Signal is not a thing but very normal. That said, let you know not to depend too much on them but to invest too much capital. Only invest capital to copy trade that is equivalent or low enough to your ability.
For example: "Provider Signal balance provides strategy" has 100 USD. If you invest in this person 1000 USD, which is 10 times is not recommended.
Besides, Provider Signal often trades according to Gird or Martingale method. I don't underestimate these 2 methods as bad. But you need to understand the weak side of it ie how risky it is.