Regulation
FCA in UK
CySEC in Cyrus
Australian ASIC
No dealing desk
Yes
Number of trading pairs
more than 1000 traded products
Maximum Leverage
1:30 or 1: 400
Copy Trade
Yes
Withdrawal speed
from 1-3 days
Website
www.etoro.com
What is Etoro ? when established?
As a broker No dealing desk. As such, their source of income comes from fees hidden in spreads on trading pairs. Also, Etoro just acts as an intermediary to execute the command. All client transactions such as Forex, Stock or other CFD trading products are online trading accounts.
EToro started in 2007, with the cooperation of three businessmen who started to disrupt the world of trading. "Their mission": Bring transaction to everyone, anywhere, and reduce dependence on traditional financial institutions.
Which does Etoro Regulation have?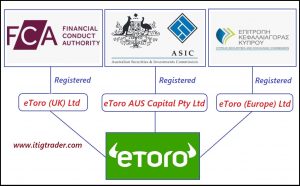 eToro FCA Protection at UK
EToro UK license is authorized and regulated by the Financial Control Authority (FCA) in the UK, with company reference number 583263. Insurance capital for clients is up to 500k GBP, if the company goes bankrupt.
eToro ASIC at Australia
In Australia, the brand name eToro AUS Capital Pty Ltd (eToro Australia) is the holder of the Australian Financial Services License (AFSL) reference number ABN 66 612 791 803, issued by the Australian Securities and Investments Commission (ASIC).
eToro CySEC at Cyprus
In Europe, the brand eToro (Europe) Ltd is regulated by the Cyprus Securities & Exchange Commission (CySEC) under license number 109/10. Registered for Cypriot Investment Firm (CIF) number HE20058.
Thus, to know that when opening an account, your account will be managed by any license, you may have to contact Etoro staff for the most accurate results. In general, they are reputable with all 3 of the above licenses
Etoro trading pairs and Etoro Commission and Maximum Leverage
EToro only provide one account type, maximum leverage of 1:30. If you want to increase your leverage to 1: 400, you have to prove yourself a professional trader (Professional Trader).
Commissions on Forex and Gold pairs are not available (commission is already included in the spread).
Other products such as Stocks, Bonds, Indices, ETFs, virtual currencies: commission fees may apply depending on each trading product.
Forex: includes 47 currency pairs, leverage up to 1:30.
Cryptocurrencies: includes 17 electronic currency pairs, with leverage up to 1: 2.
ETF: includes 145 funds, leverage up to 1: 5.
Stocks: more than 1000 shares, leverage up to 1: 5.
Indicators: there are 13 indices, leverage up to 1:20.
Commodities: there are 13 types of goods, leverage up to 1:10.
Difference on one type of trading account
Etoro divides customers into 2 groups: Newbie and Professional Trader.
Newbie: are traders who have registered to open an account at Etoro. Then, do a test of knowledge and experience. If the test scores low, the customer will be ranked by Etoro as a newbie.
Professional Trader: as above, after passing the Etoro test with good scores, the customer will be the Professional Trader (the test is very easy, almost anyone who has traded before is able to do it all).
Newbie and Professional Trader account types are the same in all trading conditions such as copy, spread, number of trading products, … and the only difference is leverage. For Professional Trader the leverage will be low and maximum 1:30. For Professional Trader the leverage will be high and maximum 1: 400.
Etoro Copy trade service
Etoro, the highlight of this broker is the social Copytrading service. The minimum capital requirement is from 100 USD to use this copy feature. Like other brokers, the investor has administrative rights to his copy account: choose the amount of capital to copy the signal, the cut-loss percentage on the capital.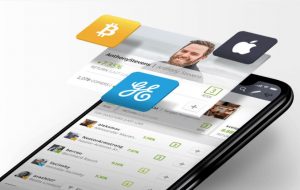 In addition, investors are allowed to cancel the Copytrading anytime they want. Although this is a broker specializing in "Copytrading" but perhaps for me, this service is not much better than other brokers of the same rank. The other point, the signal providers here are not an expert either.
More information about Copytrading feature https://www.etoro.com/copytrader/
Monopoly Etoro Platform
Etoro has only one trading platform known as a Social Trading Platform and is built for Desktop, App on mobile and iPad with Android or iOS operating systems. Thus, all trading of customers will only be through "online trading apps" and "online trading software" based on one Etoro's social trading platform only.
Etoro's Social Trading Platform's interface is as friendly as that of Facebook's. More relevant and accessible for young people who often use Facebook to chat.
Etoro Deposit and Withdrawal methods
Each withdrawal eToro will charge 5 USD and the minimum withdrawal is 30 USD each. However, the cost of withdrawing money depends on the level of the trader.
There is no fee for withdrawals from traders level II and above. Supports many deposit and withdrawal methods such as Internet Banking, Skrill, Neteller, Visa, … most of withdrawal processing is within 3 working days.

Etoro stock fees will be free on US Stock
Under the Etoro policy, they do not charge commissions solely on US stocks. Conditions for receiving zero commissions and swap free at Etoro: No leverage (1: 1) and only applied on buy orders (sell orders are not applicable).
In addition, investors also receive dividends when trading shares. But, traders should also be aware of dividends that, once received, may be taxed from some of your countries. Therefore, receiving dividends from Etoro will not be much if deducted by tax.
Thus, if anyone wants to invest in US stocks long term so that there are no commission fees, Etoro is also the choice in the portfolio. Also, Etoro is ranked in the "Top 10 brokers offering stocks or stocks most" present.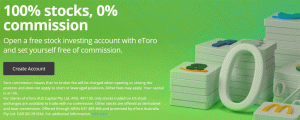 See more details about US stock trading terms at Etoro