Binomo operates in the form of a binary options exchange or Binary Options (BO). Binomo official is in Russia and it is being interested by many investors around the world today, especially in the Russian market.
BO trading is often chosen by many investors, because the results of profit or loss can be known at the moment you have chosen. The attraction of binary options lies in one main advantage: the way to trade is simple and unlike Forex the mechanism of operation will be more complicated.
There is no interbank market on BO's market
Indeed, Interbank Market is only available in other physical markets and the products traded on the real market are always interrelated and influenced by each other. But, on exchanges BO is just a virtual market, ie between trader and company BO only. Therefore, before now you will not trade to hear the winning answer on BO. Because, the person who decides the direction of price on the price chart is the BO dealer. So there's no binomo trick that always wins here.
Not operating under the macroeconomic market mechanism. All BO companies are bookmakers and often have lax rules. The risk is higher than with other investment channels if it is managed by large organizations. Compared to other BO exchanges, Binomo is more useful to have regulations but not to guarantee credibility.
Overview of Binomo World
Established in 2014. Headquartered at 4th Floor, Room 44, Irene Building, Nicosia, Cyprus. Includes 3 management branches:
In Cyprus, the company is operated by Stagord Resources Ltd, under license registered at CySEC. Currently, Binomo has been banned from all activities and we will cover it below.
Tiburon Corporation Limited is a service provider, based in the Republic of Seychelles.
Dolphin Corp is located at First St Vincent Bank Ltd, James Street, Kingstown, Saint Vincent and the Grenadines. Being a member of The Financial Commission's compensation committee is up to 20,000 Euros. This is a non-governmental organization, if there is a dispute, it will only be resolved between the customer and this organization.
Binomo was not legal in the EU at the end of 2019
In accordance with Article 5 of Law 87 (I) / 2017 of the Cyprus Securities and Exchange Commission, notice that binomo.com is no longer under the control of CySEC.
Remember, many of the BO binary options trading companies are being strictly excluded by large institutions, such as CySEC. Reviewed by Nicosia, September 25, 2019.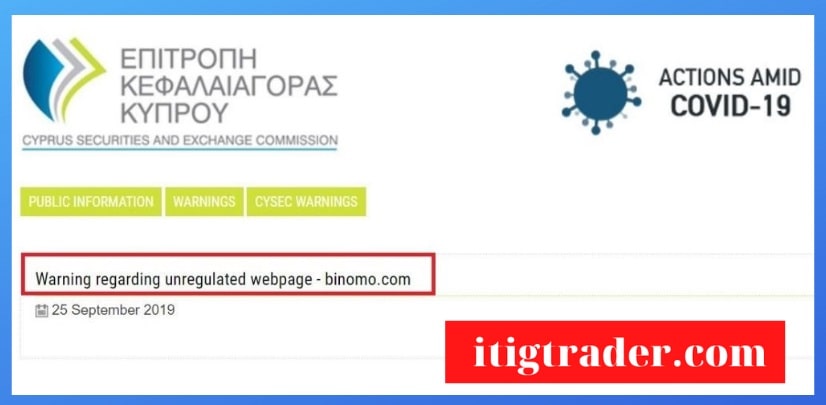 Only popular trading products are available at Binomo
About less than 15 popular currency pairs are mainly: EUR / USD, GBP / USD, AUDUSSD, USD / JPY, GBP / JPY.
Precious metals such as Gold, Silver.
Energy like Brent crude oil.
Next, about 10 Indices such as SP500, FTSE100, DAX, … and more than 30 stocks such as Apple, Siemens, Lloyd Bank, Cocacola, Facebook, Google, Volkswagen and Volvo, …
All products get quotes from Binomo and there is no real market here.
Types of Binomo trading accounts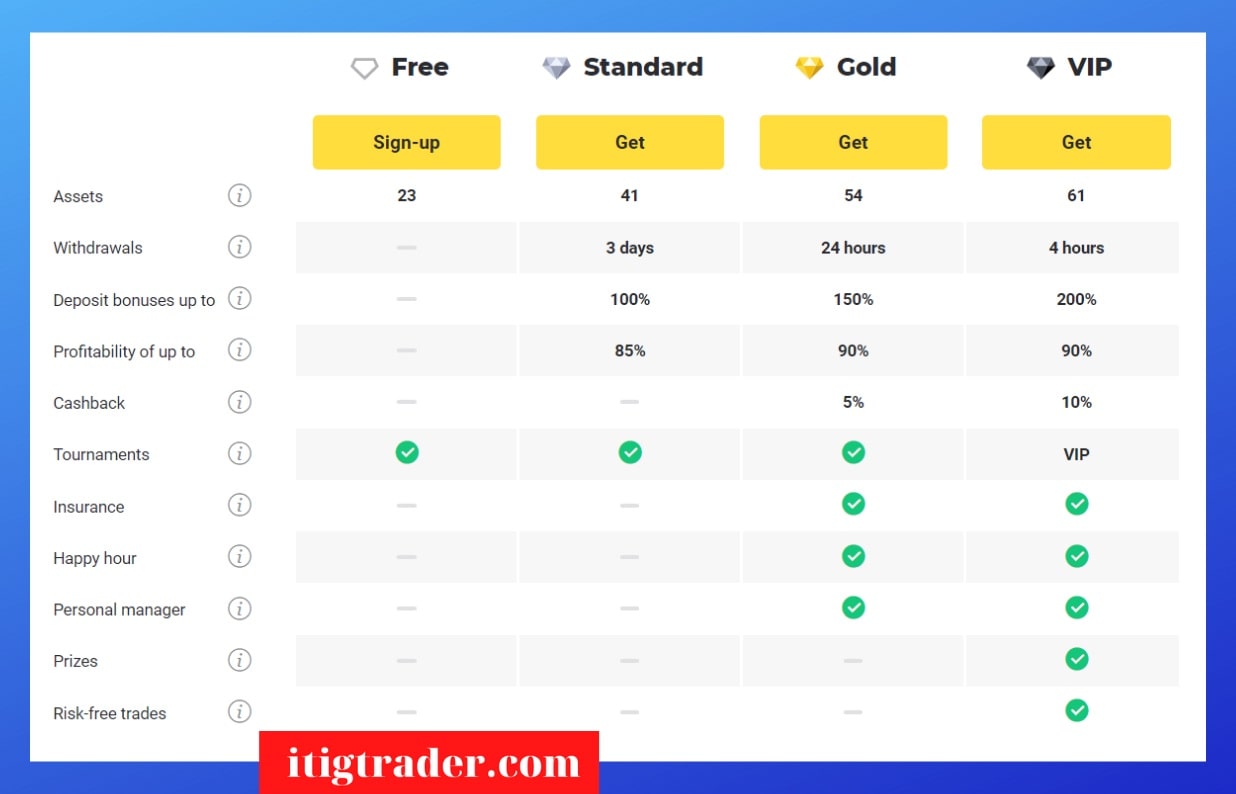 Demo account
The purpose on this account is only for the novice who wants to get acquainted with the trading platform and options trading. On this account after registering information, you will receive a virtual currency from 1,000 USD or 1000 EUR or more does not matter.
Standard account
Minimum money from 10 USD for traders who want to trade with real money. The rate of return is up to 85%. Promotions are applicable on this account. It takes 3 working days to complete the withdrawal.
Gold account
Minimum real deposit requirement from 500 USD. The rate of return is up to 86%. Receive a discount (cashback) of about 5% and time to complete the withdrawal in 24 hours.
VIP account
For VIP customers, with deposits from 1000 USD. Payout rate is highest among other accounts with profit rate up to 87%. Cashback about 10% and receive more promotions than other accounts. Withdrawal time on VIP is only 24 hours.
Binomo trading App (Trading platform)
Binomo provides and develops the SpotOption trading platform. This software allows traders to open or close option orders.
Functions on SpotOption platform:
Sentiment bar shows the order status of all traders in percentage.
Integrated strategy templates according to trading method.
Additional economic calendar so traders can view it right on the platform.
Integrated Livechat feature right in the platform version.
Popular devices can use this desktop browser platform, mobile devices use iOS or Android operating system.
On the interface of the SpotOption platform, traders can use the built-in analysis tools and view price history and Put / Call operations.
Binomo options trading conditions
Below are some of the players involved in the process of trading options at Binomo.
Request to open options is as low as 1 USD up to 1000 USD.
Price charts run throughout the week 24/7. Allows transactions to be made throughout the week.
There are many short and long timeframes but the maximum 60 minute timeframe, the higher the timeframe the higher the payout rate.
Bank transfer payments are not supported – Bankwire.
There are only 2 main options "

Put

" and "

Call

". So it is simply to predict certain market trends over a certain period of time.
Binomo deposit and withdrawal methods
Deposit on Binomo is almost fast in ticktak after having registered a trading account. Withdrawal speed depends on the account level.
Supported international payment channels include Visa / Master Card, Neteller, WebMoney, Yandex Money, Union Pay and Qiwi.
However, if there are local payment options then you should choose that one, because maybe it will be more advantageous.
A few notes about Binomo's advertising tactics
BO companies generally have unregulated advertising strategies. So, BO companies, not only Binomo, will have a marketing strategy that people call "ridiculous": Make $ 10,000 a month, play and make money online $ 500 a day on your phone, get rich fast. Quickly do not need to go to work, or the pictures sitting in the mansion press the machine to make money, … many other forms of overdone.
Also, Binomo under management agencies and non-governmental TFC role in risk insurance and if there is a dispute under the civil settlement.
Should I trade Binary Options on Binomo?
As is stated in the post title. So far, all binary options brokers and including Binomo, have no guarantee of credibility. However, if those are still interested in BO option trading. Binomo may also have a name and a number of certifications although "better than none" compared to other BO companies.
Advantages
As a member TFC compensation policy on the Dolphin Corp brand
There are no fees on all types of deposit / withdrawal.
24/7 support team.
Defect
Risks more for BO binary options firms.
Finding the necessary information on the Binomo website is often difficult to find.