Is LiteForex a scam?
To answer this question let's take a look at prior license information.
Information about LiteForex broker license.
Year of establishment and License of LiteForex
2005 was the founding year of LiteForex. LiteForex has the company address located at 124 Gladstonos Street, The Hawk Building, 4th floor, 3032, Limassol. LiteForex has 2 active market groups.
License CySEC
In the European region, the name is Liteforex (Europe) Limited and is regulated by the Cyprus Securities and Exchange Commission (CySEC) under license number 093/08. Also note that, if not every customer registers, the customer account will be protected under CySEC. That maybe the trader will be managed only in the way below.
Unlicensed offshore
LiteForex's remaining group is registered in the Marshall Islands under registration number 63888, under the name LiteForex Investments Limited. About the Marshall Islands, which is a small archipelago with a large number of Christians.
Member of the Investor Compensation Fund
Liteforex is a member of "Investor Compensation Fund", which allows us to guarantee that all of our client funds are insured up to 20,000 EUR. This may only apply to customers under the management of CySEC.
LiteForex Account Types & LiteForex Commissions
Provide 2 types of traditional accounts: Classic Account and ECN Account.
LiteForex Classic Account:
Minimum capital of 50 USD, maximum leverage of 1: 500 and execution of market orders and no re-quotes and no commission fees. Spreads are also quite high on this account. Using transaction copy service is allowed.
LiteForex ECN Account:
Minimum capital of 50 USD, maximum leverage of 1: 500 and execution of market orders, no re-quotes and permission to use copy transaction services. The commission is as follows:
Main pairs: EURUSD, GBPUSD, AUDUSD, NZDUSD, USDJPY,… fee 10 usd / lot trading
Cross pairs: AUDCAD, AUDCHF, AUDJPY, CADCHF, EURCAD,… fee 20 usd / lot transaction
Sub-pairs: EURHKD, EURPLN, EURRUB, GBPSEK, GBPSGD, … fee 30 USD / lot transaction
Gold and Securities, Energy, more… In addition, receive interest rate 2.5% / year on capital,

only for ECN Account

.
Here is a comparison of the two types of accounts above: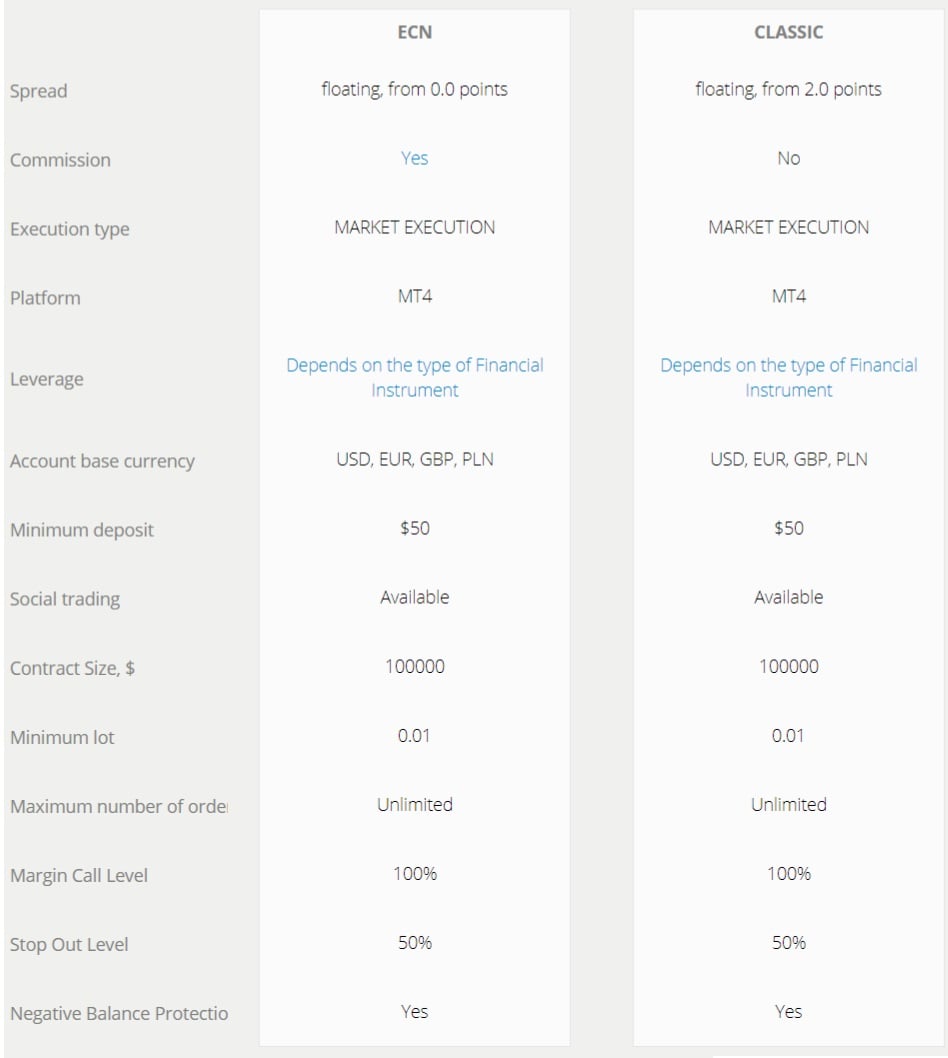 LiteForex Leverage and Trading Products
Forex:
There are 7 main currency pairs: EURUSD, AUDUSD, GBPUSD, NZDUSD, USDCAD, USDCHF, USDJPY.
Over 35 cross currency pairs: EURJPY, EURGBP, GBPCAD, GBPJPY, CADCHF, NZDJPY, AUDNZD and many more.
Leverage on Forex is up to 1: 500 and minimum trade volume is 0.01 lot.
Commodity & Energy:
Gold and Silver and leverage up to 1: 400. Crude oil and Brent. Trading time 24/5 on these trading products.
Stock CFDs index:
More than 10 popular Stock Indices, with maximum leverage of 1:20 and minimum trading volume from 1 trade lot.
Stock CFD NYSE:
Over 15 popular CFD stocks in the NYSE stock exchange: American Express Company, Bank of America Corporation, Johnson & Johnson, AT&T Inc and more. In addition, investors are still allowed to receive dividends. >>> See more dividends for CFD NYSE shares.
Stock CFD NASDAG:
More than 10 popular CFD stocks belonging to the NASDAG stock exchange such as: APPLE INC, FACEBOOK INC, GOOGLE INC, Paypal, Nvidia, Tesla and more. Likewise, investors will also receive dividends when the dividend date is reached. >>> See also the dividend schedule for CFD NASDAQ shares.
Provide Lite Forex calendar
LiteForex's own economic calendar, free to investors. However, the trader should customize the time to match the trader's local time. This is what the economic calendar looks like.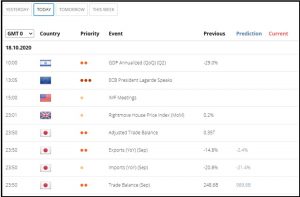 Forex Analysis from LiteForex
In addition, LiteForex provides daily fundamental and technical analysis channel for products like Forex pairs, Gold, Silver, Crude Oil and more.
LiteForex also offers additional programs "Payment systems' fees". That is, if the customer transfers from a bank and bears the fee, the customer should contact LiteForex to refund the fee to the account.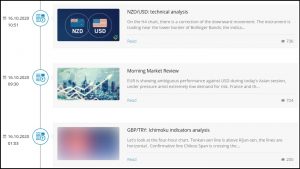 LiteForex Social Trading
Like many other brokers. LiteForex also provides signal copying service – Forex Social Trading. I myself have not used this service here. So investors who want to check should use it with small capital first. The best way is to trade yourself. Because, on the LiteForex side, there are also a team of trading specialists and their qualifications are not yet verified.
LiteForex Deposit and withdrawal methods
Traders are allowed to add many types of wallets corresponding to currencies such as EUR, USD, GBP, RUB, JPY, CHF, CAD, AUD, NZD
Deposit funds with virtually no fees on all of the above methods.
Withdrawal fees of 0.5-2.5% will be applied to each method, and there is no withdrawal fee for Internet banking.
Pros:
LiteForex platform allows automatic withdrawals within 24 hours. Maximum withdrawal of 100 USD (for verified accounts) and maximum 50 USD (for unverified ECN accounts). However, only applicable to methods such as Skrill, Perfect Money, Neteller.
Receive 2.5% interest on equity in ECN accounts.
Cons:
Commission for ECN account is too high compared to other brokers.
It will be a disadvantage for traders to open an account with LiteForex Investments Limited. if there is a dispute with LiteForex.