MTrading broker has been providing services to traders around world since 2012. A relatively young forex company. Currently, this forex broker offers many extensive services to attract customers such as trading knowledge training, cooperation and investment programs.
Of course, question arises whether MTrading is a scam or a trustworthy company. We will answer this question below.
Is Mtrading a scam?
Operating since 2013, MTrading's strengths and corporate offices are active in South American countries and some Asian regions. To build momentum in financial markets by upgrading to a better quality trading system. Build type of operation with ECN order matching mechanism, ensure better order execution and reduce possibility of slippage in transactions. Along with "separated accounts" policies, ensure safety of investments from force majeure.
Not only that, mTrading also inherits a part of prestige from Admiral Markets that has existed for nearly 20 years, a reputable company that has existed for a long time. And professional traders will surely know this name.
Thus, it can be said that MTrading is not a scam.
Overview
Mtrading clients can access online trading on trading products offered by this broker: forex, metals, cryptocurrencies, indices, stocks, energies (oil and gas). Proud to be a company that offers good quotes, low spreads in market, offers a variety of deposit and withdrawal methods, supports educational information about trading. Clients can use very popular MetaTrader 4 platform for best trading and ease of use. Traders can also execute all trades on mobile, tablet or PC versions.
Besides, right on website of this company provides quite a lot of information such as: documentation on trading terms, supported platforms and marketing affiliate programs. Mtrading is quite focused on training trading knowledge, showing that they also really care about development of investors who need to be financially savvy. Everything is presented right on page like books, video lessons, webinars and market analysis.
Minimum deposit and withdrawal costs
This forex broker is developed mainly for retail traders so deposit condition is not too high to open an Mtrading trading account.
Minimum deposit
MTrading offers a variety of deposit options. To start real trading, you can easily open an account with broker and deposit required minimum amount of 10$ with all deposit and withdrawal channels.
Deposit and withdrawal fees
Deposit and withdrawal channels supported by Mtrading include:
Bank transfer
Plastic cards (Visa and Mastercard)
Skrill
Neteller
QIWI Wallet
Webmoney and more.
Below are deposit and withdrawal costs at Mtrading for investors' reference.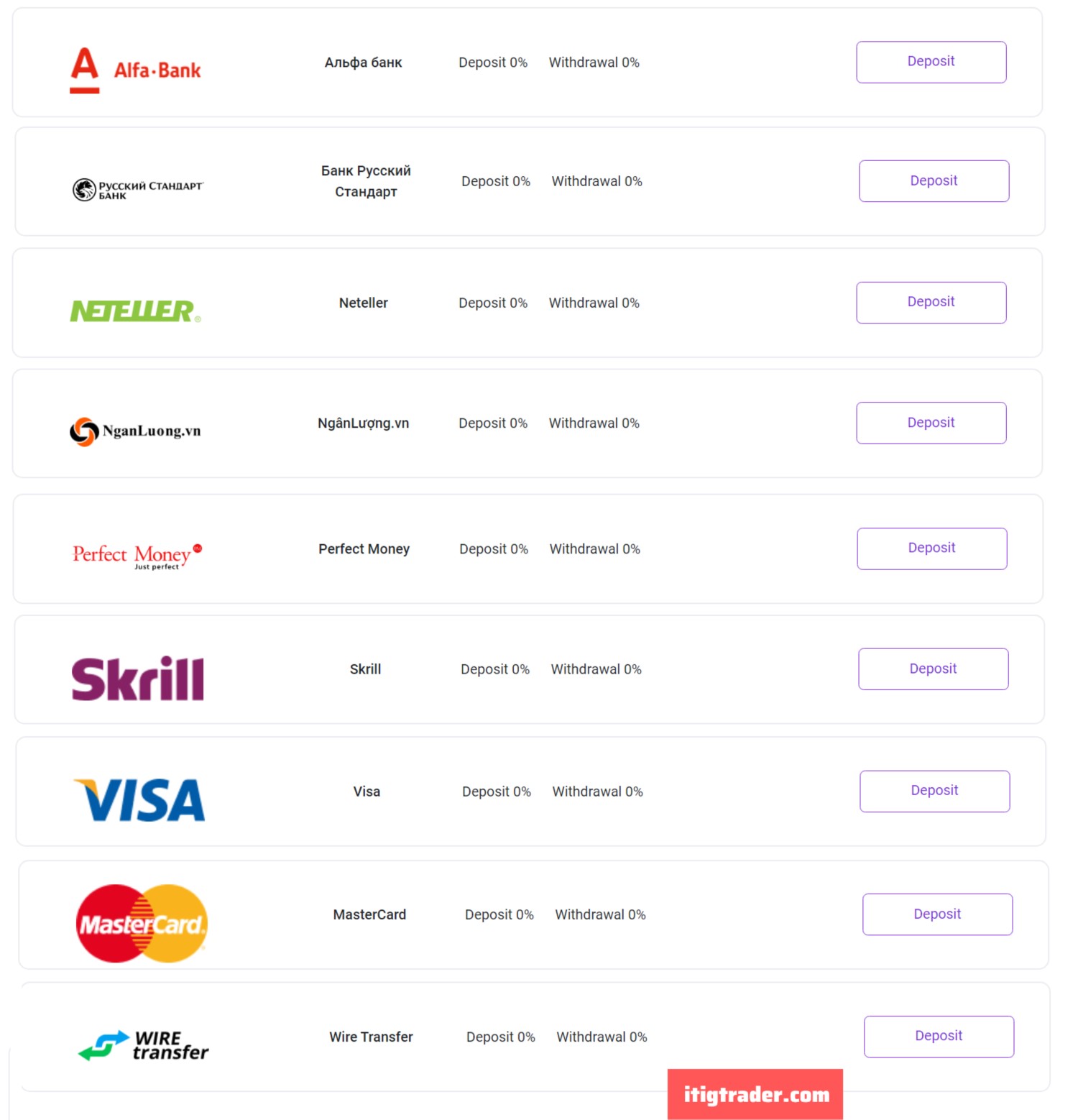 Deposit time is instant to your trading account when you pay via electronic payment systems, except bankwire which will take longer from bank side. Withdrawal time is within 24h for traders who have verified accounts, as company complies with AML policy.
Regulations and licenses
Here is some information regarding Mtrading regulations after checking.
Belize's IFSC and IBC are no longer valid
As before, Mtrading is a member regulated by IFSC Financial Services Commission of Belize, under IFSC/60/270/TS/14, responsible for ensuring safety of transactions. But so far it may have been no longer valid for some reason. Also, IBC doesn't seem to exist.
Mtrading is a member of Financial Commission
Currently a member of Financial Commission since 2013. Clients are insured up to €20,000 free of charge, which guarantees a portion of risk of any contingencies if anything happens to company. Mtrading.
You can check Mtrading's Financial Commission membership here.
Conclusion about Mtrading
Although MTrading broker is a young company, many new investors may not hear about it. Receiving positive or negative reviews always exists on most brokers, not just this broker. You may have noticed that Mtrading is actively developing in form of constant posting of market commentary on website and webinars. This proves that company is very eager to learn opinions of users.
We should also note that MTrading, all information from Commission Financial is verified, while IFSC and IBC licenses are no longer valid. From side of customer reviews are not yet fully expressed. So it is too early to judge Mtrading as a trustworthy company or a scam.