Vantage FX is a forex broker established in 2009, providing a global online financial trading platform. Traders have access to multiple assets.
Vantage FX is headquartered in Australia and is a major global financial broker. After more than 10 years of operation, Vantage FX has developed to provide retail traders with trading instruments such as Forex, Precious Metals, Stocks, CFDs with competitive spreads.
It is of utmost importance to be a trustworthy broker and the right mechanism of operation will increase your success in online trading. Also, make sure that your broker is not fake, if you don't want "lost money".
Benefits of trading at Vantage FX
Headquarters: Australia and with more than 10,000 investors registered to trade at VantageFX.
Year established in 2009.
Minimum deposit: 200.
This company is managed by:
Vantage Global Limited is authorized and regulated by VFSC, registration number 700271.
Vantage International Group Limited is authorized and regulated by the Cayman Islands Monetary Authority (CIMA), Securities Investment Business Law (SIBL) No. 1383491.
Vantage Global Prime Pty Ltd is regulated by the Australian Securities and Investments Commission (ASIC), AFSL number 428901. Domain management vantagefx.com.au
Vantage Global Prime LLP is authorized and regulated by the financial regulator FCA, FRN number 590299. Domain management www.vantageglobalprime.co.uk
Is Vantage FX safe?
When choosing a broker, the broker's management status is most important. A broker without any regulatory oversight will pose a major threat to your capital.
The company was founded in 2009, meaning that VantageFX has been in business for more than 10 years and is headquartered in Australia, under the same regulations as FCA, ASIC, CIMA, IFSC.
Thus, it is unlikely that the company steals money from customers. In particular, with UK FCA regulated client markets, as long as Vantage Global Prime LLP violates any regulatory rules, their regulatory status can be taken away.
Is client deposits safe at VantageFX?
Any payment or trading account deposit on Vantage FX is kept in a separate bank.
For added security, Vantage FX uses tier 1 banking for security.
Level 1 bank is also considered the safest and best secure bank. Tier 1 banks have strong reserves and are used by financial authorities to use tier 1 banks because they are able to withstand financial crises from unpredictable fluctuations of the market.
Also, any deposit you make on Vantage FX will be kept securely in a bank with enough capital, to satisfy your withdrawal wishes even if Vantage FX is shut down for some reason. .
Therefore, it can be safely concluded that Vantage FX is secure and secure.
It is worth mentioning that you can lose money when trading on financial assets. Your account may suffer losses due to insufficient effort to research the market, lack of experience.
VantageFX trading platform with over 210 different assets
VantageFX offers a wide variety of trading assets for their clients. Assets available on Vantage FX include Forex, Precious Metals, Stocks, CFDs with competitive spreads.
All 3 types of trading accounts at VantageFX are allocated the same amount of assets. These types of trading accounts differ only in the amount of deposits, commissions and spreads. Below is an image depicting the difference between a Standard account and a RAW account and a PRO account.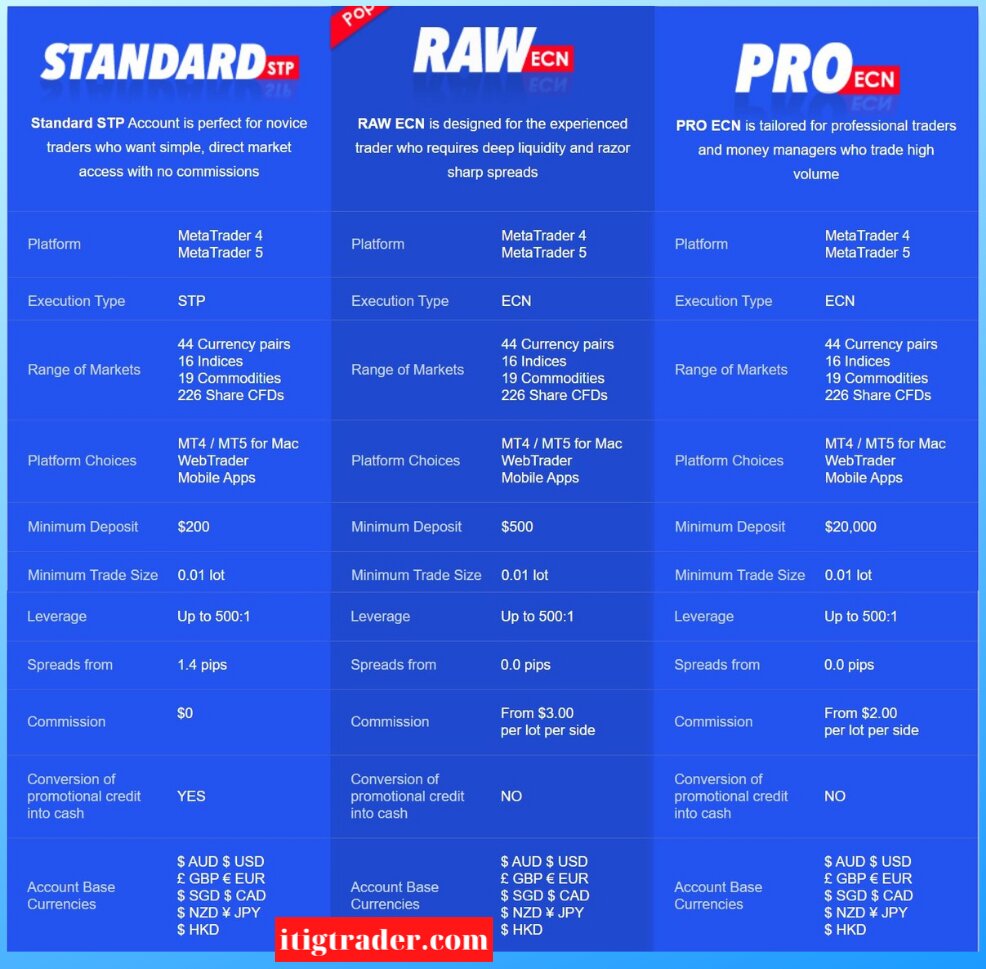 Deposit and withdrawal methods at VantageFX
Vantage FX allows customers to use the following methods to transfer money: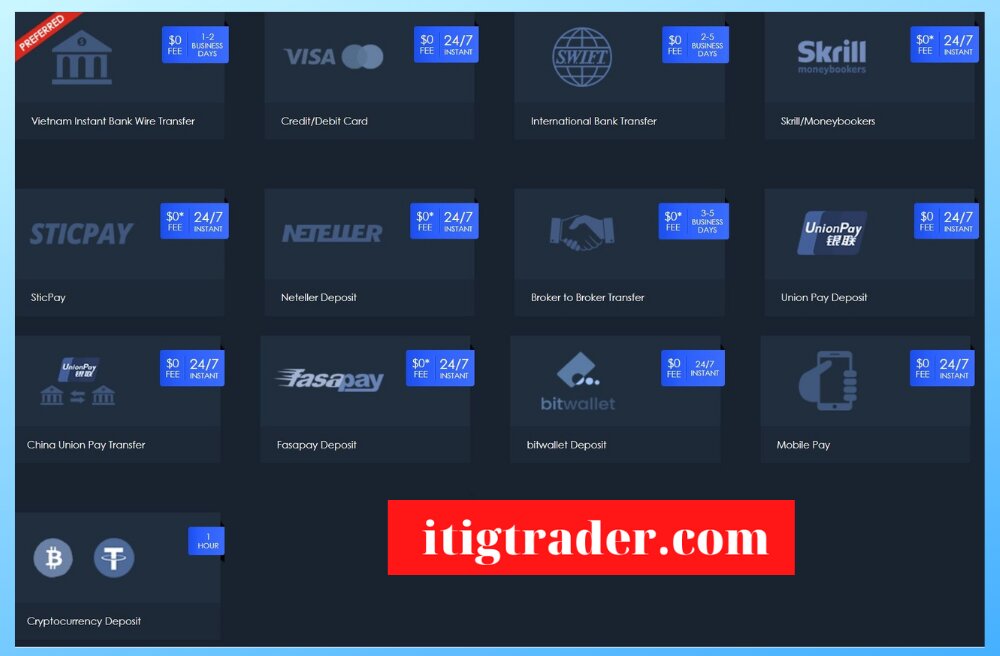 Local Banking
Bank Wire
Neteller
Skrill
FasaPay
POLi
Payments
Visa Credit / Debit card.
Minimum deposit
VantageFX Minimum deposit required amount is 200 USD or its equivalent to open a Vantage FX trading account.
The speed at which money is deposited into a trading account is usually instant.
Deposit fee will be applied on Skrill, Neteller channel depending on that provider. It is better to send it by local method, as a withdrawal through it will be both fast and costs may be lower.
Withdrawal fee
This fee will vary depending on the withdrawal payment method you have chosen. Also, withdrawal processing time will be fast or slow. For example, slow withdrawal of money via Visa is the policy of the trader's bank.
VantageFX Pros and Cons
Any broker always has their strengths and weaknesses. There is no exception to Vantage FX and here is the comparison.
Pros
Cons
There are many safety regulations.
Many stocks CFD US, UK and EU, Australia.
Low spreads.
Deposit and withdrawal fee for customers is not supported.
There is no Ctrader platform.
VantageFX reviews and Scams?
We mentioned the safety of client deposits at VantageFX above. A privacy policy Vantage FX takes very seriously to protect all customers.
Vantage FX has been around for more than 10 years and is subject to the strict financial regulations in each registered institution. In it, including provisions of the Australian Securities and Investments Commission ASIC. Subsequently, Vantage FX UK holds a reputable FCA Financial Authority license, to oversee foreign exchange trading through a series of rules. Along with some other regulations of VFSC and CIMA.
Lastly, VantageFX is definitely not a scam.