XTB is one of the brokers that many traders are interested in today. If only considering the age in the financial sector, it is definitely better than many other brokers. Not only that, XTB is also one of the brokers listed on the world stock exchange. That said, the higher the quality and reputation of the XTB.
Development history with XTB licenses
Established in 2002 and XTB headquarters in Warsaw. If anyone who has ever traded a lot, they will know the name X-Trade, which is the previous name of XTB.
In 2004, X-Trade entered XTB into compliance with the new Polish regulations.
In 2016, X-Trade was listed on the Warsaw stock exchange and has grown continuously since then. Currently, XTB has offices in 10 countries around the world such as Germany, Chile, UK, Poland, France.
With a long-term operation in the world market nearly 20 years, to build a sustainable brand for a broker is not easy. XTB is subject to supervision from the regulatory registrar with the following brands:
| | |
| --- | --- |
| | XTB Limited is registered and regulated under the Financial Conduct Authority (FCA) in the UK |
| | XTB International Limited is registered under the Financial Services Commission (IFSC) license number 000302/46 in Belize |
| | X-Trade Brokers DM SA is registered under Komisja Nadzoru Finansowego (KNF) in Poland |
| | XTB Ltd is regulated by CySEC, number 169/12 in |
| | XTB Sucursal is registered and regulated under the Comisión Nacional del Mercado de Valores in Spain. |
Types of accounts at XTB
There are 3 types of accounts: Standard Account and Pro Account and Islamic Account.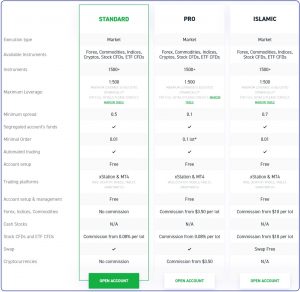 Standard account
These include: 3 Standard A, Standard B and Standard C. On Standard accounts there is no commission and minimum trading volume of 0.01 lot. But the difference will be from 1.3 pips, just like most with Standard accounts in other brokers.
Pro account
Spreads from 0.1 pips or more and a commission of 7 USD / lot for both turns. The advantage on Pro accounts is that Indices traders do not have swap fees. Swap rates are still available on Stock CFDs and ETFs but at a relatively low cost. For Forex pairs there is a swap fee as usual.
However, Pro account has the minimum trade volume from 0.1 lots. Therefore, it is very difficult for those who want to experience on Pro accounts that need a minimum capital of 50-100 USD and use 1: 500 leverage which is the highest of the XTB broker.
Leverage and financial trading pairs offered by XTB

49 Forex pairs
Leverage up to 1: 500, up to 24 hours 5 days weekly market.
22 Commodities and precious metals
Leverage up to 200: 1, including products Gold, Silver, Oil, Coffee, Sugar, Gas and many more, with market time running 24 hours 5 days a week. Swap free for some trade items.
42 Indices
Leverage up to 200: 1, keep positions day by day with no swap fees. Indices come from USA, Germany and China.
1815 Stock CFD
Leverage up to 1:10, allowing easy buying and selling transactions.
XTB provides a lot of stock codes on exchanges from major stock exchanges of the US, UK, France, Germany, including famous large stocks such as Apple, Microsoft, Google. And stocks that are currently interested in such as Tesla Motors, Nikola, SoftBank, Wirecard. Commission is as low as 0.08% and has no swap fees. However, you may also incur a rollover fee, which is quite small.
104 ETF CFD
Leverage up to 1:10, commission is 0.08%. ETF funds of large institutional funds such as SPDR, S&P 500, Global X Uranium that not all brokers offer and many other ETFs.
25 Crypto Pairs
XTB is also considered as a broker with the most cryptocurrency pairs currently. Because most of the other brokers that offer cryptocurrencies are not sure to 10 pairs of cryptocurrencies.
More specifically at XTB, cryptocurrencies operate 24/7, which means the prices run continuously even on Saturday and Sunday while other brokers are only 24/5 only.
Another special feature, swap fees on cryptocurrencies are quite cheap.
Trading platform
Metatrader 4 – MT4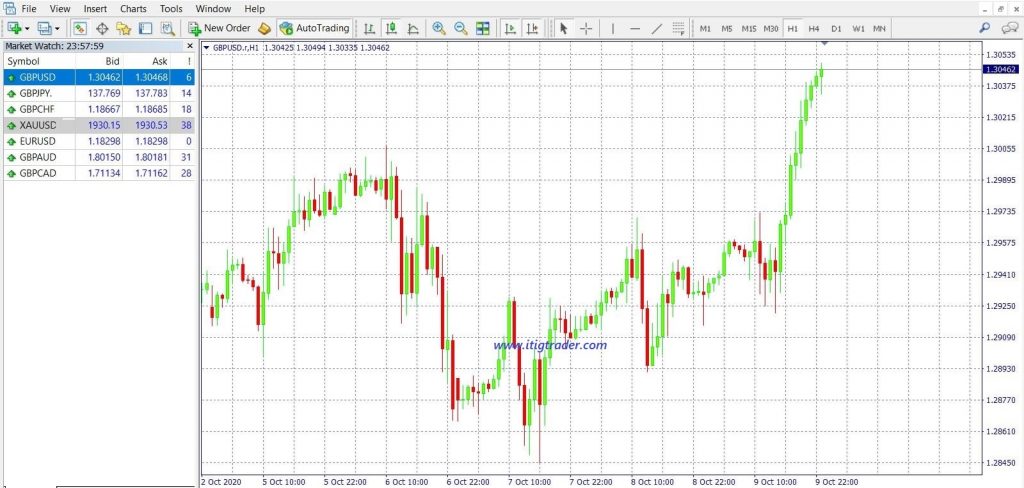 MT4 is also nothing new to most investors. With MT4, investors can easily trade on devices such as computers with Windows operating systems, smartphones and tablets with Android and iOS operating systems.
xStation 5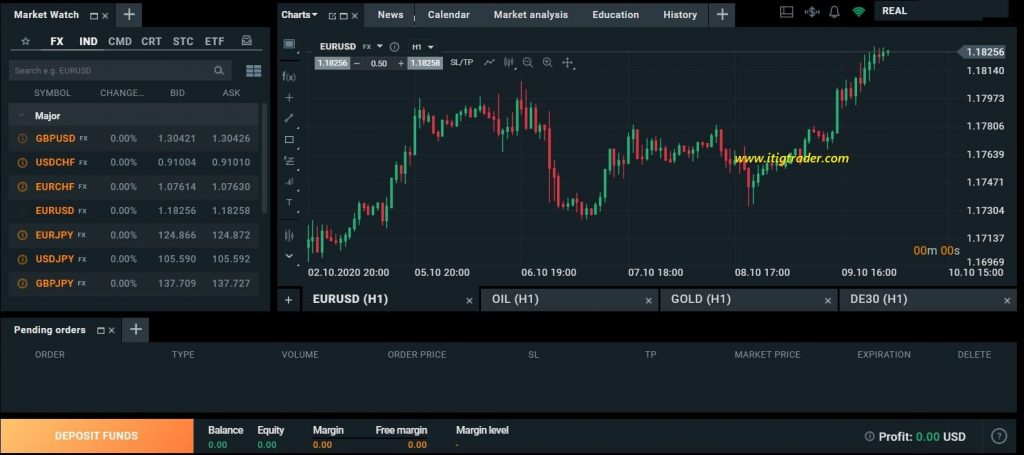 As well as claiming to be a famous broker, XTB offers an exclusive trading platform called xStation. Support 19 languages ​​on xStation software.
For sure, the xStation platform will outperform the MT4. As below are some highlights of xStation.
Provide full economic calendar, dividend schedule
Deposit and withdrawal are done on the software.
Fast order execution.
Integrate more analysis tools
Can be used on devices that support Web, Windows, MacOS, iOS and Android versions
Payment methods
XTB broker has all the popular methods: Visa, Skrill, Neteller, Bank wire.

For Skrill and Neteller methods: the deposit fee is quite high 2% from Skrill, 1% from Neteller. Withdrawals are free only on withdrawals of 50 USD or more, if below the applicable fee on XTB it will be 30 USD.
For Visa: both a hassle and a long time can take up to a week when withdrawing money.
Go to XTB : www.xtb.com
Advantages of XTB:
XTB has all licenses from reputable financial regulators.
As a longtime broker in the industry.
Lots of product deals.
Swap free on many products, is a concern of long-term traders.
Disadvantages of XTB:
There is no MT4 Web platform.
High commission for withdrawals below 100 $.
Lots of traded cryptocurrency pairs.