HOTFOREX OVERVIEW
License
FCA in United Kingdom
DFSA in Dubai
FSCA in South Africa
FSA in the Seychelles

Broker type

No dealing desk

Trading products
> 150 products

FIX / API Technology
MT4, MT5 Platforms
Copy trade


PAMM

Deposit and withdrawal methods
Local Bank, VISA card, Bitcoin wallet, Skrill, Bank wire …

Withdrawal speed
Fast, within 24 hours
Free VPS service
Sign up for HotForex

Open a DEMO / LIVE account
ABOUT HOTFOREX
Broker HotForex is an intermediary broker that carries out the trading of clients' orders to the market (no dealing desk). In recent years, HotForex has made a step in improving the number of trading products such as Securities and investment funds ETFs using DMA matching technology. Previously, the products traded at HotForex included Forex and Precious Metals, Commodities, Indices, Stocks, Bonds, Cryptocurrencies under CFDs.
Therefore, HotForex is more and more able to retain customers who tend to trade its Stocks and ETF products.
Established in what year? HotForex corporate headquarters located?
HotForex or HF Forex was established in 2010.
HotForex has registered offices in many countries around the world such as Cyprus, Seychelles, South Africa, Mauritius, and more. Those regional representatives are responsible for each customer market and respond to each country's trade agreement policies.
Thus, HotForex company will be divided into 6 registration areas
and all the same brand name HF Markets Group.
HotForex Regulation
HF Markets (SV) Ltd incorporated in St. Vincent & the Grenadine as an International Business Company with the registration number 22747 IBC 2015.
HF Markets (DIFC) Ltd is authorised and regulated by the Dubai Financial Services Authority (DFSA) under license number F004885.
HF Markets (UK) Ltd is authorised and regulated by the Financial Conduct Authority (FCA) under firm reference number 801701.
HF Markets (Europe) Ltd a Cypriot Investment Firm (CIF) under number HE 277582. Regulated by the Cyprus Securities and Exchange Commission (CySEC) under license number 183/12.
HF Markets Ltd regulated by the Financial Services Commission (FSC) of the Republic of Mauritius, category 1 Global Business No. C110008214 License | Company Reg. No. 094286/GBL.HF Markets SA (PTY) Ltd is an authorised Financial Service Provider from the Financial Sector Conduct Authority (FSCA) in South Africa, with authorisation number 46632.
HF Markets (Seychelles) Ltd is regulated by the Seychelles Financial Services Authority (FSA) with Securities Dealer's License number SD015.
CUSTOMER PROTECTION POLICIES ON HF FOREX
Civil liability of Hotforex
Optimal insurance to customers in HotForex up to €5,000,000. Be wary of situations of unintended failure that affect customers' capital.
Enhanced liquidity
Hotforex increases and take advantage liquidity from major global banks. Based on the prestige strength and international position of the long-standing.
Separating money from customers & company capital
Customer capital in HotForex was transferred into a bank account to avoid misuse. Or the worst case scenario is a default that the company itself cannot repay to the customer, as well as the creditor.
Negative balance
This is the most noticeable guard. If the market fluctuates strongly in a negative direction, the result is negative balance in the client's account. At HotForex, in the above situation, the balance in the client's account will be zeroed by Hotforex.
HOTFOREX DEMO ACCOUNT FOR TEST TRADING
Like many other forex brokers, Tickmill of course will allow customers to open demo accounts on Demo Account. On this mode there won't be any risks.
HotForex demo accounts are allowed up to or over $ 50,000 as virtual currency and you can test it on the many environments offered here.
BENEFITS OF CUSTOMERS AT HOTFOREX
I will list some of the benefits of this Forex Broker during the trading process.
HotForex Account Types:
HotForex Micro Account, HotForex Premium Account , HotForex Zero Spread Account, HotForex Auto Account, HotForex PAMM Account (PREMIUM), HFCOPY Account. Creating, the specificity of each account type is different, instead of the other brokers they will merge them.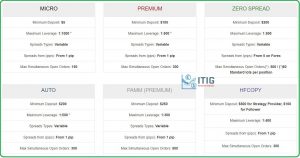 HotForex Minimum Deposit
Because of the unique difference on each account, the required capital will also be different:
starting at 5 USD on MICRO accounts.
starting at 100 USD on PREMIMUM accounts.
starting at 200 USD on ZERO SPREAD and AUTO accounts.
starting at 100 USD on PAMM accounts and from 500 USD on HFCOPY account.
1000+ trading instruments
50+ Currency pairs: all include majors, minors & exotics.
Oil:

UK Brent Oil & US Crude Oil.

Metals:

Gold, Silver, Platinum, Palladium.

50+ Share:

Alibaba, Amazon, APPLE, Bayer, AG Bank Of America, eBay, FaceBook, Google, Tesco Plc, and more.

11 Indices:

Australian 200, France 40, Germany 30, Japan 225, Netherlands 25, Spain 35, Switzerland 20, UK 100, US Tech 100, US Wall Street 30, US SPX500.

Bonds:

Euro, Bund UK Gilt, US 10-year Treasury Note.

Cryptocurrencies:

BItcoin Cash, Binance Coin, Bitcoin Euro, Bitcoin US Dollar, EOSUSD, Ethereum Euro, Litecoin Euro, Ethereum US Dollar, Stellar Lumens, Litecoin US Dollar, Stellar Lumens, Monero, Ripple US Dollar.

940+ Stocks:

with Direct Market Access (DMA) for Acciona, Acerinox, Activision, Blizzard, Admiral Group, Adobe, Albemarle and many more. There are US stocks from NYSE and NASDAQ.

30+ ETFs (Exchange-Traded Funds):

Roundhill Sports Betting & iGaming ETF, SPDR Gold Shares, iShares Russell 1000 ETF, iShares Global Tech ETF, SPDR Dow Jones Global Real Estate ETF, SPDR S&P 500 ETF Trust, SPDR S&P Metals & Mining ETFs and lots more.
Relatively low spreads
Almost on trading pairs. Especially on ZERO SPREAD (ECN) account, which has a low spread on major forex pairs compared to other forex brokers such as: Markets.com, FXpro, Forex.com, Oanda. Investors can view the details of the spread chart at Hotforex.
Market execution
No re-quotes. Client's order will be matched at the market price.
Leverage ratio 1: 500
This is only true for certain HF Markets Group markets. Except HF Markets (Europe) and HF Markets (UK) Ltd.
Volume starts from 0.01 lot
Minimum order opening volume from 0.01 lot. This is more favorable for the small dispersion trading method.
SMS Alert Service Free
Customers will receive Flash Updates and Autochartist Updates right on their phones. This service is free, but requires a minimum capital from 1000 USD.
No fee on Deposit & Withdrawal
Apply free on all methods such as VISA card, Bitcoin wallet, Cryto Payments, Fasapay, Neteller, Skrill, VLOAD, Webmoney, Local Bank. Particularly, the Bank wire fee is charged by the customer's bank).
Other benefits
Flexibility: in terms of hotforex bonus programs.
Low commission:

8 USD / lot on Zero Spread account (ECN Acccount).
HOTFOREX COPY TRADE SERVICE – HF Copy
As well as forex brokers they also offer copy trading services. This HF Copy service meets the need between "strategic providers" who want more income and "investors" with capital, but not yet a good profitable strategy.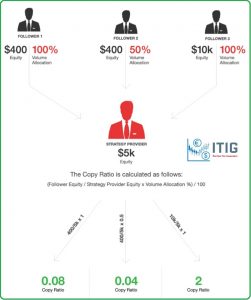 *Conditions to become a strategic provider on HF Copy:
You must have an account with HotForex.
Minimum capital from 500 USD. After that, at least each time a minimum deposit of 100 USD is allowed.
Do a test first, to avoid a new trading account.
You name your strategy, upload avatars, description of your Trading Strategy, set your account leverage.
Allow "Public or Private" your trading account history. I think you should go public, because an investor when they copy they definitely needs to see your trading history.
Offer profit fee according to% of the strategy, maximum 50%. Like asking yourself how much it costs.
Finally, Accept the terms of agreement with HotForex when registering as a strategy provider.
*Conditions to become an investor on HF Copy:
Conditions will be simpler. You must also create your own HFCopy account first.
Minimum capital from 100 USD. After that, you are allowed to make a minimum deposit of 50 USD each.
Must accept the terms of agreement with HotForex before applying as a copy of the strategy. For example: You pay a%-of-profit fee to your strategic provider if they are profitable. Conversely, if the strategy provider loses, then you don't pay any fees. Of course, these execution fees you will be seen before signing up for copying any of the strategy provider's strategies.
Tip: You should leave your capital at least equal to that of the "strategic provider". Because, if your capital is lower then the risk that if the strategic provider is holding loss but has not cut your account then your account burns out first.
Also note, for the investor, you have the right to cancel copying anytime you want. Should refer to the advice below for investors.
FIX/API
With FIX API technology for all traders with large business scale. Because, the way traders execute orders on the market will not be over by MT4. That is, traders have direct access to market liquidity without having to go through a broker. The minimum required capital to use the FIX API at HotForex is $ 200,000 and a balance must be maintained above this threshold. Otherwise, they may cancel the service immediately or you have to contact the company in advance about your case. That is why this innovative technology, only for traders who really want to trade independently exclusively. Usually very few Retail traders, but the majority here are organizations, hedge funds, brokers.
Of course, the FIX API is a premium and exclusive service. If you want to use it you have to make a request form in advance with HotForex. Form form below:
TIPS FOR INVESTORS WHO WANT TO COPY STRATEGY ON HF COPY
Consider evaluating with "strategic providers" in the order
Martingale.
Profits more and quickly, also means more risk.
Consider more with the balance of the "strategic providers" too small, while the balance you spend is many times more.
Be careful with teams of Zalo, Telegram groups invite copy.
Disadvantages of Hotforex:
Spread on Micro account is higher. Thus, if new people experiment with 5 USD, it is quite a disadvantage.